About the Toronto Blizzard Year Round Program
Are you serious about pursuing a professional or academic path through soccer?
Come experience the only complete grassroots to academic and professional pathway for male and female athletes in Canada.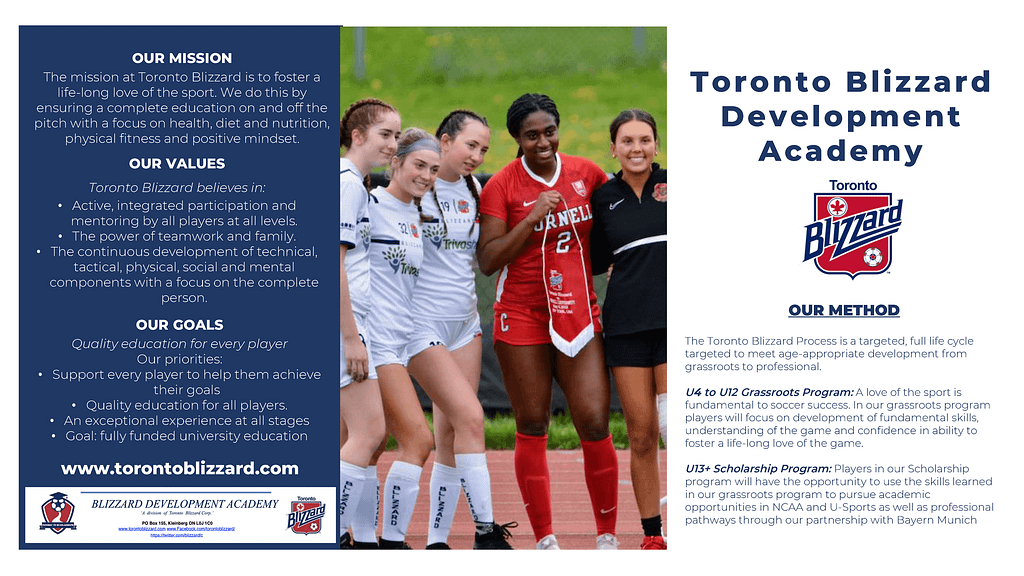 Toronto Blizzard is Canada's only grassroots to education and professional playing opportunities for all soccer athletes. Beginning October 2022 Toronto Blizzard will offer players a from U4 to U18+ an opportunity to learn the game, improve their skills, pursue their goals of higher education or professional career and, most important of all, have fun while doing it!
Our Values
Toronto Blizzard coaches staff and players are committed to the individual success, happiness and mental health of every player. We believe that active and integrated participation is crucial for all athletes. At Toronto Blizzard we understand that every individual will have their own pathway and definition of success, and we strive to elevate and inspire at all stages of development. 
Through our focus on development, proper technique, health (social, emotional, mental and physical), and belief in their capabilities we support the development of the whole person, both on and off the pitch.
More than anything else, we believe that soccer should be fun. While it takes hard work and dedication to achieve your goals it also takes teamwork, the support of our families and a fundamental love of the game to take the next step. When you believe in yourself and the process anything is possible. 
Our Goals
Our primary goal is to ensure that every player receives a high-quality education – there is a place for everyone! In our grassroots programs players U4 to U7 will work with our coaches to learn fundamental skills and techniques along with a fundamental love of soccer to help them build confidence in their abilities. From U8 to U12 players in our Scholarship Prep program will expand on these skills through training and a variety of leagues and tournaments in Canada and the US to ensure a solid understanding of tactics as they progress toward our U13+ scholarship program. Our Scholarship Program athletes will continue to participate in leagues, tournaments, competitions and exhibition matches to ensure maximum exposure to soccer coaches across Canada and the United States. Players will typically play 30-50 games in the US each winter, the majority against NCAA schools. 
Interested in finding out if Toronto Blizzard is the right fit for you?
Join us at a weekend training session to meet our players and coaches, get a feel for our program and find out more information. To register please fill out the form below to reserve your spot. If you have any questions please email Joe Parolini at
[email protected]
To confirm your attendance please fill in the form below. Cost per session is $30 and may be paid via EMT to [email protected] Credit card payment is available on request. 
NOTE: No training sessions will be held on long weekends. Please register in advance as teams may be travelling on various weekends and training sessions may be affected as a result.  
Blizzard Trials Registration