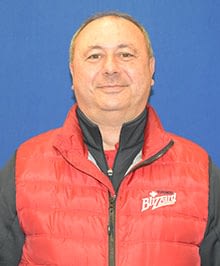 TORONTO BLIZZARD HEAD COACH
Toronto Blizzard – Director 
Cell: (416) 805-1294
Tel: (905) 893-0696
E-mail: [email protected]
Bio: Joe Parolini has been running the # 1 rated Scholarship Program in Canada since leaving the Canadian Women's World Cup & u20 National Women's Team. Joe Parolini started the Woodbridge SC Girls Program under President Marcella Reda. After leaving the Toronto Blizzard Scholarship Program was born & continues to be #1.
Joe Parolini was also the Trainer of the Canadian Men's World Cup team from 1984-86 that is the only team Canada has had that qualified for the Men's World Cup, in Mexico (1986).
Joe Parolini was also trainer & on staff with the Canadian Men's u16, u18 & u20 from 1979 til 1986. Joe then went on to become the Hamilton Steelers GM, (1986-1988) & then GM of the Toronto Blizzard from 1988 – 1992, both during the Professional League , CSL (Canadian Soccer League).
Focus now is on giving back & helping all players achieve their dreams & goals by getting Scholarships. With almost 100 scholarships to his credit, mainly in NCAA D1 & mainly "full rides" it gives him great pleasure to help players get an education through the sport they love – soccer.
"Believe in yourself & the Process".
TORONTO BLIZZARD GENERAL MANAGER
Cell: (416) 805-1294
Tel: (905) 893-0696
E-mail: Administrati[email protected]
Bio: A passionate and committed soccer player, coach and administrator with an in depth knowledge of the game. Cesare's leadership, management skills, and vision will allow him to develop and maintain Toronto Blizzard as a dominant Organization.
UEFA B LICENSE - GK COACH
Bio: I played Professionally in Italy, mostly in Serie C (Lega Pro) from 2004 to 2012, playing over 150 official games and having the pleasure to sign a contract in 2009 with the A.C. Siena in the Italian Serie A. In 2012 I moved to Canada where I won the Canadian Soccer League…
http://www.sportscentres.ca/
E-mail: [email protected]
Bio: Dr. Robert Gringmuth has treated high performance athletes over the past 23 years, providing expert diagnostic assessment, treatment and conditioning programs. He has worked with players of the Toronto Maple Leafs and was designated as the official sports chiropractor for the NHL visiting teams to Toronto…. Read full bio
View full profile